Skip to Your Spot:
Current Regional Overview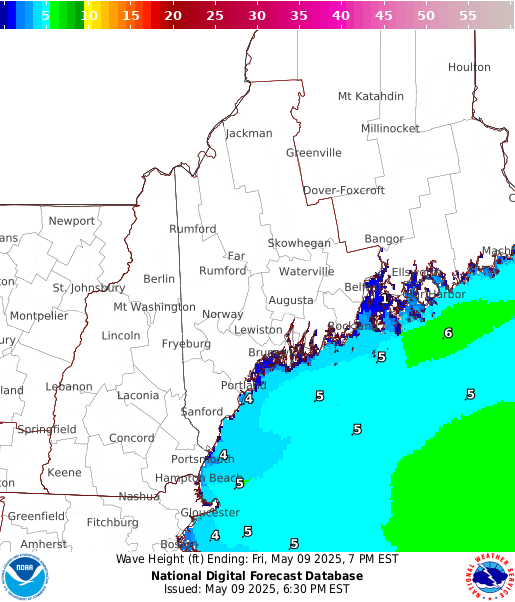 Higgins Beach
Higgins Beach is home to many (if not most) Portland-area surfers. Local tides can fluctuate up to 10 feet daily. This, along with rapidly shifting sandbars, ensure that every session here is new and different. Higgins is famous for holding huge overhead-plus swells quite well. Its only weakness is the break's low to mid tidal dependence. Conditions here are generally very fickle. Perfect conditions are a long-period south swell originating in the Caribbean wit ha NW to NNE wind. Specifically, a SE to E swell is the best swell direction with chest to double overhead being the best wave size.
Closest Buoy Live Feed:
Old Orchard Beach
Skill Level: Beginner to advanced (largely depending on conditions).
Wave Type: Beach Break.
Best Swell Direction: SE.
Best Wind Direction: NW.
Best Tide: Mid tide, incoming.
Swell Direction Range: E to S
Surfable Break Size: Knee or more.
Bottom Type: Sand.
Comments: Long lefts and rights under the right conditions.
Hazards: Crowds in the summer (swimmers).
Localism: None. A few locals (give respect to get respect) and a couple known and ill-liked troublemakers.
Parking: Available in the winter. Limited to not available in the summer.
Closest Surf Shop:
-Moose County Music and Surf (has occasional surf reports)
Closest Buoy Live Feed:
Fortunes Rocks Beach
This is an exposed beach break with fairly consistent surf. It also works year-round. The best swell direction is directly from the E. The wave here yields a rideable right or left shoulder. The ideal tidal range is low to mid. It receives wind or groundswell with equal frequency. Fortunes Rocks is cleanest when winds blow NNW.
Closest Buoy Live Feed:
Kennebunk Beach
Kennebunk is a sheltered beach break that features consistent surf, especially during the winter. The offshore wind direction here is NE. The sandbars at Kennebunk offer rideable left and right shoulders and break best from low to mid tide. Most waves here come from groundswell, with the best swell direction being ENE. This spot can also become crowded when conditions are good.
Closest Buoy Live Feed:
Wells Beach
Big, open WSW facing beach break with ample room to spread out.
Closest Buoy Live Feed:
Ogunquit Town Beach
Ogunquit is Maine's best-known surf break. The break is located off Lobster Point and produces long rights and quick inside lefts. Wave quality varies with swell direction and changing sandbars. Ogunquit works well up to a few feet overhead, after which wavesturn mushy. The local scene is very small here - everyone knows eachother by name, board and vehicle. Just north of the rivermouth, the main beach provides many open waves. The best tide is incomingfrom dead low. The ideal conditions are a due E swell direction with W wind (offshore).
Closest Buoy Live Feed:
Short Sands
Short Sands is a small break in York Beach that faces NE. The wave is fickle, but can be a goofyfooter's dream when it's working. This beach offers steep, fast, hollow lefts with an occasional right. The perfect combo is NE swell with a S to WSW wind, which is uncommonin Maine but still possible. When it does happen expect nice steep drops and hollow albeit short, A frames. If these conditions do occur during the summer, which has happened before, good luck - surfing is forbiddenhere, and violators face stiff penalties like tickets and fines.Best swell direction is north. Optimum winds are from the south. High tide only.
Closest Buoy Live Feed:
Long Sands/York Beach
York beach is a long WSW facing beach break good for longboarders and beginers with ample room to spread out. The north end is somewhat protected from N to NE winds by Cape Neddick.
Closest Buoy Live Feed: